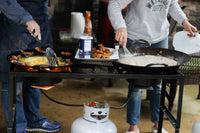 Put The Fun Back in Outdoor Cooking!
At Blue Moon Disk we're making outdoor cooking fun again and bringing the chef back into the party.  Prepare meals that are unique, delicious, easy, and most of all - FUN!

If being authentic is important to you, then you've come to the right place!  Our disk pans are made from farming disk blades which is the authentic way!
​We love to cook on our disk and are positive you will too.  Join the Blue Moon Disk family today!

MORE FUN THAN A GRILL!
blue moon disk starter pack
"The cutting disk turned cooking disk is perfect for an entire meal when grilling at home or camp."

Lacey Thacker, Arkansas Wild Magazine